Lem wrote in 1968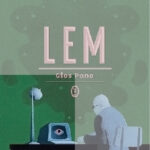 The myth of our cognitive universality, of our readiness to receive and comprehend information absolutely new – absolutely, since extraterrestrial – continues unimpaired, even though, receiving the message from the stars, we did with it no more than a savage who, warming himself by a fire of burning books, the writings of the wisest men, believes that he has drawn tremendous benefit from his find!
And so the recording of the history of our vain efforts may prove useful – if only to some later, future student of the First Contact […]
Lem, His mater's voice, Northwestern University Press, Evanston, Illinois, chapter I, pp. 26-27.